"AN ABSOLUTE TRIUMPH!
Il Combattimento not only connects with the public, but is entertaining, imaginative, colorful, and conveys an incredible optimism and zest for life!"

-Núvol
"vocal and instrumental interpretation of the highest quality...
early music for modern times!"

- Tot Sant Cugat
CONTRATEMPS brings to life virtuosic music by Monteverdi and his contemporaries, while a troupe of court jesters (singers, musicians, actors and acrobats) present a comedy before the king and queen. Unlikely situations caused by the jesters, games of musical and vocal virtuosity, interaction with the audience, and a good dose of humor meet in our hilariously fresh version of "Il Combattimento di Tancredi e Clorinda," a show perfect for all ages!  Duration: 75 minutes.
"An unclassifiable version of the equally difficult-to-define piece by Claudio Monteverdi that combines the concept of CONTRATEMPS: early music that goes beyond the limits of conventional concerts, unabashedly mixing genres, creating shows truly suitable for all audiences!"
In the early 1600s, Claudio Monteverdi revolutionized the musical world with a brand new genre – opera.In 1624 "Il combattimento" was performed in the palace of the Venetian nobles Mocenigo, and would later be called an "opera." 
One Carnival afternoon at the Mocenigo Palace some of Monteverdi's amorous madrigals were being performed. Suddenly, the guests were surprised to see three characters enter the scene, two of whom were covered in armour:  Tancredo and Clorinda. The third character was the Narrator, and sang some verses of Tasso's Jerusalem Delivered. Afterwards, the couple sang while acting as fighting in the dramatic story until the tragic end. The audience, the composer tells us, was amazed, because they had never seen anything like it before.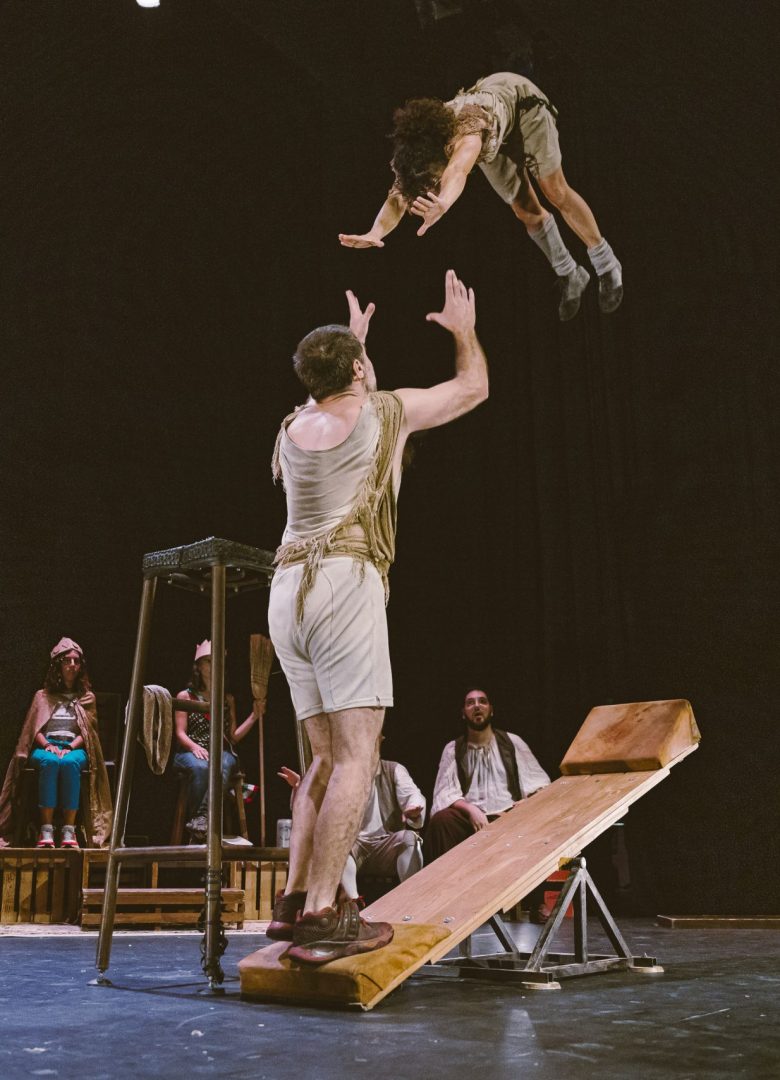 The Team
Stage direction
Adrián Schvarzstein
Soloists
Maria Hinojosa, Clorinda
Jorge Juan Morata, Tancredi
Ferran Albrich, Testo
Ensemble Contratemps
Margherita Pupulin, violin
María Gomis, violin
Katy Elkin, shawms, recorders, dulcimer
Lixsania Fernández,  viola da gamba
Juanjo Francione, theorbo, guitar 
Xavier Puertas, contrabass
Albert López Cortés, percussion
Jordi Domènech, harpsichord, conductor
Dance
Jurate Sirvyte
Circus Balusca
Núria Puig, Marc Muñoz
Lights
Bernat Pros
Sound
Nicolás de Ángel
Executive production
Jorge Juan Morata
Video
Elisabeth Bataller, Katy Elkin
Thanks to
Opera de Sabadell
Production
Col·lectiu Música Antiga de Sant Cugat in residence at Teatre Auditori de Sant Cugat